A New Super Sniper!
The new Super Sniper Stealth merges two incredibly successful products to meet the requirements of a very demanding audience.
The original Super Sniper is tried and trusted but thousands of users who needed more capability than what the standard Sniper 4150 EFI System could offer out of the box. Boasting as many as eight injector and an additional I/O harness with sensor power and ground built right in, the Super Sniper was made for serious business.
Even before that, the Terminator Stealth and more recently the Sniper 4500 Stealth offered the carburetor look that is still cherished in the hot rod world. Looking like a Holley Ultra XP carburetor to the casual observer, these were undercover EFI systems that looked at home at a classic car show.
What if the Stealth look were merged with the power and competitive price of the Super Sniper 4150?
You don't have to imagine--now you can own it. If you want to do some serious power adders--turbo, supercharger, dry nitrous--and need either a bigger MAP sensor, more injectors--or both--then this is the system for you. Until now, it meant a very expensive step up to one of Holley's impressive multi-point fuel injection systems featuring the HP or Dominator ECU. But now you get enough injectors to flow fuel for 1250 naturally aspirated HP in the 8-injector Super Sniper! But the number of injectors aren't the only thing they've upgraded. The Super Sniper Stealth has an impressive 870 CFM of air flow--nearly 10% more than the standard Super Sniper 4150! So now you can do some serious blow-through power production!

If you have an engine with a Holley 4150-style intake manifold then you are ready to start installing. Bolt on the throttle body, put the linkage in place, connect the power and O2 Sensor, provide an pressure-regulated EFI fuel supply. All that's left is walking through the guided setup quiz (with not-so-tough questions like, "what is the displacement of your engine") and the ECU located inside the throttle body itself does the rest.
Ford Owners: The Sniper Stealth provides C4/C6/FMX kickdown provision that is not available on the standard Sniper--another solid reason to choose this one if you're having trouble making up your mind.
Choose From 4- or 8-Injector Versions
Holley knew that not everyone who wanted this rich set of power-adder features needed eight injectors so they also provide a 4-injector version. So if you are safely inside of the horsepower requirements of the 4-injector version you can use that extra money for other upgrades...like maybe a nice set of gauges or 7.5-inch Digital Dash driven by your Sniper ECU!
4-Injector Version PN: 550-873 (Shiny Silver), 550-874 (Ceramic Black), 550-875 (Classic Gold)
8-Injector Version PN: 550-876 (Shiny Silver), 550-877 (Ceramic Black), 550-878 (Classic Gold)
So What Makes This Sniper EFI System So Super?
Well, we've already mentioned the availability of 8 injectors and the standard 2.5-bar MAP sensor. But Holley knew you'd want more--and they delivered.
Draw-Through Supercharger Applications: The Super Sniper allows you to run a remote MAP sensor so that you can read the manifold pressure beyond the supercharger. They did this by tapping the existing MAP sensor port and including a 10-32 set screw. Install that set screw, and then connect a vacuum line to the manifold. Easy!
More Inputs and Outputs: Hey, the original Sniper was able to do quite a bit with it's two programmable inputs and 3 programmable outputs. So you can only imagine what you can do with an extra 8-pin harness that provides not only three more programmable inputs and three more programmable outputs, but also Senssor power and ground for a 0 to 5-volt sensor. That means the Sniper Sniper can monitor, log, and display fuel and oil pressure! This blows the competition away!
CAN Bus to USB Adapter INCLUDED: Holley understands that the target audience for the Super Sniper is a bit different than that of the standard Sniper. Where the standard Sniper will appeal more to the enthusiast who might not need to utilize the Sniper software. Since most Super Sniper buyers will find that laptop tuning is non-optional, the CAN Bus to USB adapter cable is included in the kit.
Turbo and Supercharger Setup--RIGHT IN THE SETUP WIZARD! Pardon the enthusiasm but this is a HUGE benefit over the standard Sniper EFI System. In the original Sniper you had the option of boosting the engine, but it was anything but "plug and play". You went through the standard setup and answered all of the questions. Then you had to use the Sniper software to both re-scale the fuel and ignition tables for your boosted application and then build a whole new fuel and ignition curve (not to mention the target AFR table, etc.) NO MORE! Just select "Turbo" or "Supercharger" in the setup wizard and you're well on your way to tuning bliss!
Plug-And-Play compatible with the new Holley EFI Hyper-Spark Distributor The HyperSpark is the PERFECT distributor for throttle body injection applications. Because these applications do not require cam sync, that feature is left out to give the owner all of the benefits he or she would get from using a Holley Dual-Sync Distributor on their TBI system, but at a much more reasonable cost. Watch this space for product availability!
Features:
Direct Fit for 4150-style Intake Manifold (adapters available for other manifolds)
The ECU is in the Throttle Body--No boxes to mount, no complex wiring harness to run!
Connect with as few as 4 wiring connections: Power +/-, Ignition, and RPM Signal
Visually amazing 3.5-inch touchscreen provides both setup and monitoring
Self-tuning--no laptop or software required!
Sniper Laptop Tuning Software--The Deal Maker

People ask us what is the difference between entry-level EFI Systems. The deal maker for us is the amazing Sniper software! Hey, what you can access and control via the included 3.5-inch touchscreen display is very impressive. This added software is not necessary for the vast majority of Sniper EFI users. But there are a few folks out there who wanted full-featured tuning capability. Well, here it is!
What can you do with the laptop software that you can't do with the handheld? Well, you can tune your Sniper to work with boosted engines up to 1.5 bar of boost (using the 2.5-bar map sensor that came on the Sniper) or configure an external MAP sensor to run even more boost. It is important to note that this software deviates from the basic concept of EFI for Everyman. While it is easy to attach the included USB adapter cable, download the Sniper EFI Software, install, connect, and run, learning EFI tuning is challenging to say the least. But we here at EFISystemPro.Com are excited to guide you in your learning.
Recommended With your Super Sniper Stealth EFI System
You will need an EFI Fuel System. We have several solutions!
The Super Sniper Stealth does not have a built-in fuel pressure regulator. If you select one of the Retro-Fit Fuel Tank Modules mentioned previously you can opt for the version with the in-tank return and that fully meets the requirement. Otherwise, check out this page of fuel pressure regulators to find the best option for your application.

You absolutely will want a way to confirm your fuel pressure. The Fuel Pressure Gauge is a cost-effective solution but with the added Super Sniper you can add a Fuel Pressure Sensor, allow you to display and data-log fuel pressure. Those who don't install one with their EFI system are invariably the ones who end up needing it. Don't be that guy!
The Super Sniper EFI System has the capability to control ignition timing in addition to providing fuel injection. If you choose this then we recommend you upgrade to the HyperSpark Distributor System.
Bowl Connector Hose: At some point a few weeks into production Holley figured out that the hose they were including to connect the two fuel bowls together didn't fit. The TPS got into the way. But recently they have come out with three different hose setups, which all work beautifully, including with with a built-in fuel pressure regulator. Nice! Holley no longer includes these with the kit but they are optionally available, above.
For more Sniper EFI System upgrade and replacement parts browse our entire selection of Sniper EFI System Components!
Everyone says, "Buy From EFISystemPro.Com". Why?
All EFI systems purchased here at EFISystemPro.Com come with two years of our exclusive Level 3 Platinum EFI System Support at no additional charge! Our normal cost on this level of support when bought separately from and EFI system purchase is $495 per year.
What do you get with Platinum EFI System Support? To start, that means we're on standby to answer your questions. Our tier-3 tech support will gladly talk you through any challenge--just try to get that sort of personal service from a big-box auto performance store! We'll gladly review your data logs and customize your configurations based on your unique requirements. Because here at EFISystemPro.Com, our look is high-end professional, but our service after the sale is home-town helpful!
Don't Miss This!

FREE Sniper EFI T-shirt with every Sniper EFI system purchased from EFI System Pro!

This T-shirt is yours for $0.00 with your Holley Sniper EFI System purchased from EFI System Pro. Simply choose between Black and Dark Gray and designate your T-shirt size in the dropdown when adding the Sniper system to your shopping cart.

CLICK HERE for T-shirt product page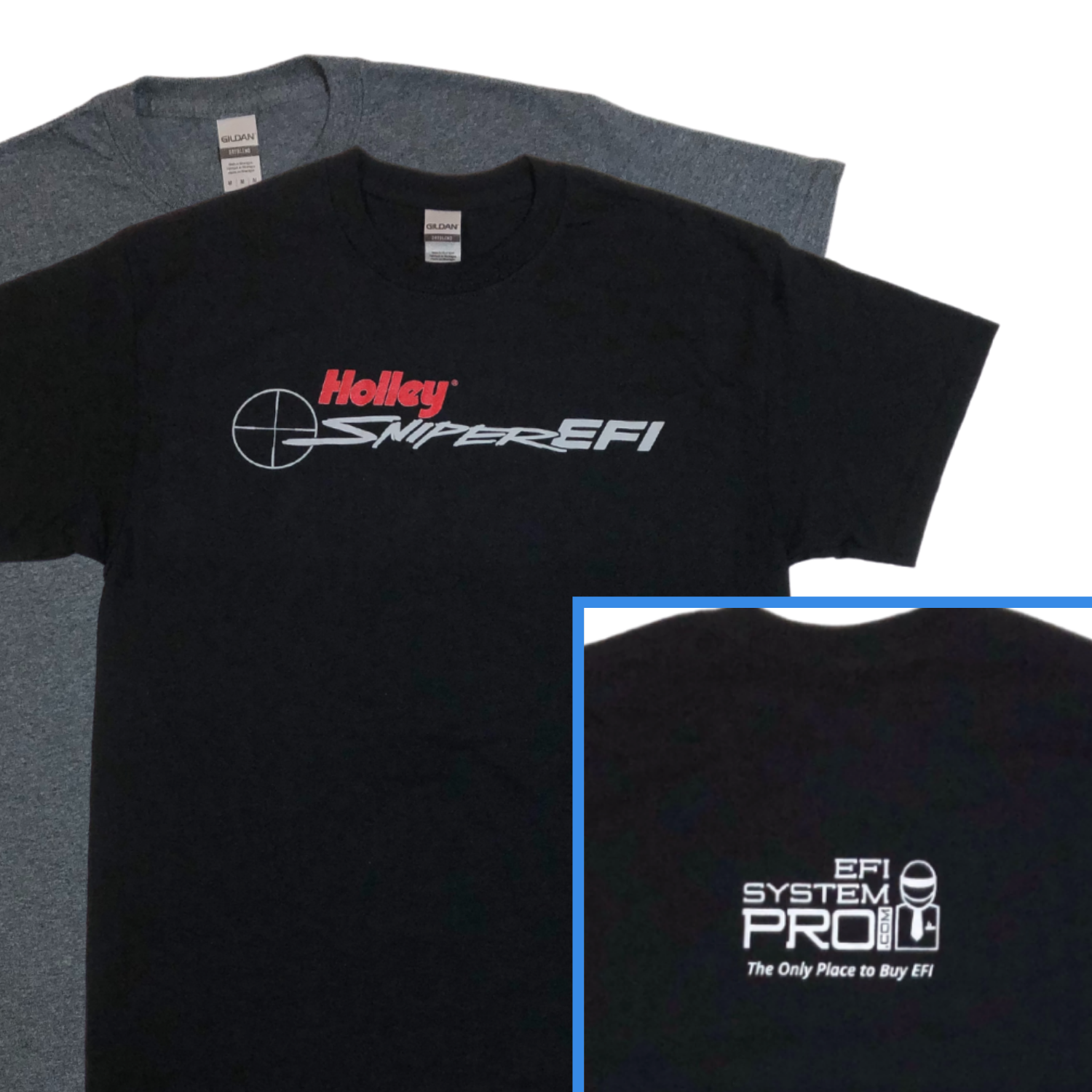 Watch This Great Video On The Sniper Stealth EFI System 4150
Not Sure? Review this product documentation before you buy!


Owners & Installation Manual
Holley Sniper EFI System
ECU
Boost Control
Yes
DIS Outputs
None
Family
Sniper
Fueling Strategy
Speed Density,
Includes Power Harness
Yes
Injector Drivers
Four or eight
Internal Datalogging
All datalogging done via external CAN bus device such as 3.5-inch handheld (included), laptop software, or digital display.
Knock Control Channels
0
Nitrous Control
Yes (Single Stage Progressive, Wet or Dry)
Number of Cylinders
4, 6, or 8 Cylinder (Even Fire Only)
User Configurable I/O
Yes
User-Selectable MAP Storage
No
Water-Methanol Control
No
Displays And Controllers
Auto Brightness
No
CAN Bus Capable
Yes (Specific to Holley ECUs Only)
Case/Bezel Finish
Black
Configurable
Monitor dozens of pre-configured metrics provided by the ECU, including sensors, air/fuel ratio, switched outputs, drive-by-wire data, and more.
Data Logging
Yes
Display Type
LCD
Functions
Setup, Monitor, Tuning
Gauge/Display Size
3.5 Inch Rectangular
Internal Storage
Yes (SD Card)
Touchscreen
Yes
Throttle Bodies
Airflow Rate (CFM)
870 CFM (at 1.5 Inches Hg)
Barrels (BBL)
4
Gaskets Included
Yes
IAC Motor Included
Yes
Injectors Included
Yes
Style
Throttle Body Injection
Throttle Bore Diameter (ea)
42.86mm
TPS Sensor Included
Yes
Fuel Injectors
Flow Rate (Lbs / Hr)
100 PPH
Harnesses
Harness Type
7-pin Power/Ignition/Fuel Pump, 10-Pin I/O, 8-Pin I/O, Wideband O2, Coolant Temp, CAN Bus (All fixed to Throttle Body)
Terminated
Yes
Sensors
Type
Air Temperature, 2.5 BAR MAP and Throttle Position (Integrated in TB); Coolant Temperature, Wideband O2
General
Also Included
3.5-inch Touchscreen Display
Application
Universal (Requires intake manifold for square bore carburetor or adapter there-to)
Color
Shiny Metallic (550-873 & 550-876), Ceramic Black (550-874 & 550-877), or Classic Gold (550-875 & 550-878)
Emission Code
3
Unit of Sale
Kit
Super Sniper Stealth EFI System 650 & 1250