Terminator Throttle Body Injection (TBI) EFI Systems were Holley's original 4150-carburetor replacement EFI Systems. Predating the Sniper EFI System, these include one of Holley's high-end HP or Dominator ECU's mated with a 4-barrel throttle body with four 80 pound-per-hour injectors. Air flow is an impressive 950 CFM, making this an appropriate choice for naturally aspirated engines up to about 600 HP or boosted engines to about 480 HP (gasoline.) Optionally, an injector upgrade is available that will allow naturally aspirated horsepower levels up to the limit for 950 CFM of airflow (roughly between 700 and 800 HP) and over 1000 HP boosted.

Easy to install

No computer experience required

Handheld tuner included
Simple multiple choice set-up wizard

Self-tunes while you drive
Optional Laptop Tuning capability (no cost--free download.)
Available in Polished (550-440 & 550-442), Hard Core Gray (550-441, & 550-443), or Classic Gold (550-444 & 550-445) Throttle Body
Fits all standard square flange intake manifolds. Connections for Ford, GM TH350 and 700R4, and other transmission linkages.
While similar in scope to the Sniper EFI systems, the Terminator TBI systems have some features that set them apart from Sniper. To name a few:
Remote-Mounted ECU typically much less sensitive to radio frequency interference (RFI)
Capability to drive Holley EFI Fuel and Oil Pressure gauges*
Knock Sensor Capability*
Water Methanol Injection Capability*
Internal Data Logging
Fully Programmable I/O
Customizable Sensors
Alpha-N Load Sensing
More Advanced Boost Control
8 stages of Nitrous
Traction Control*
Staging Assist
Transmission Control
Timing Control Compatibility with GM HEI or Ford TFI Ignitions*
*Requires additional hardware not included in the basic Terminator TBI system.
What's Included
The Each Terminator EFI System includes the following:
Terminator Throttle Body with:

80 PPH Fuel Injectors (x4)
1-BAR MAP Sensor
Throttle Position Sensor
Idle Air Control (IAC) System

Holley HP® or Dominator® ECU
Bosch Wideband Sensor and Weld Bung
Coolant Temperature Sensor
3.5-inch Handheld LCD Touchscreen Display
Main Wiring and Power Harness
I/O and Ignition Adapter Harnesses
Brackets, Gaskets, and Fasteners
How Is Terminator Stealth Different?
The primary difference between the Terminator Stealth TBI System and the standard Terminator TBI System is primarily the look. While the standard Terminator TBI offers a bit more modern throttle body, the Stealth throttle body is purposely intended to mimic the look of a carburetor--and it does that quite nicely. There is a slight difference in the layout of the sensors inside of the different throttle body's covers but that is completely transparent and immaterial to the user. It does require that the two throttle bodies use a different throttle body harness, but since these harnesses are integral to the throttle body, plug into a common main harness, and are not normally installed, replaced, or removed by the user, it means that you can simply pick the look you like and go with it.
What Else Will I Need?
Required: EFI Fuel System with
EFI Fuel Pump
Pre- and Post-Pump Filters
Fuel Pressure Regulator (43.5 PSI Return-Style)
Associated Hose, Hose Ends, Clamps, Adapters, Etc.
Recommended:
Optional: Components to control ignition timing.
Available With Transmission Control
Owners of vehicles with the GM 4L60E, 4L65E, or 4L80E transmissions are really going to like this--the Terminator Univeral Throttle Body EFI System is available with transmission control for these popular transmissions. Easy setup on the handheld display using the same setup wizard that creates the configuration for EFI control. Once configured you can use the handheld to fine-tune the upshift and downshift points, WOT upshift, torque converter clutch parameters, and more. You can even tune the line pressure vs. TPS or MAP for each gear!
Fuel System Upgrade Options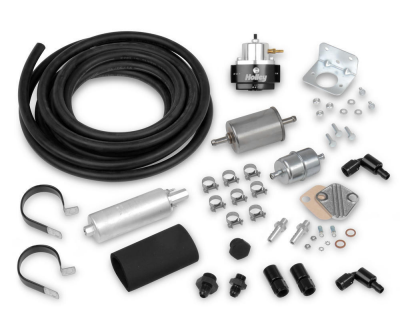 You probably recognize that you need to upgrade your fuel system if you're upgrading from a carburetor or the old GM throttle-body injection to this Terminator TBI kit. Fortunately, you have a lot of great options! We have fuel pump modules to fit a broad assortment of gas tanks, complete EFI fuel tank systems fit many popular muscle cars and trucks, and you can even choose to order your Terminator 4BBL TBI system as a Master Kit with all of the components shown in this image. If you have any questions at all, just contact us and we can help design a fuel system that is perfect for your application!
Not Sure? Review this product documentation before you buy!


Owners Manual
Holley Terminator 4-BBL Throttle Body Fuel Injection System
ECU
Boost Control
Yes (Additional Hardware Required)
DIS Outputs
None
Family
Terminator
Fueling Strategy
Speed Density
Includes Power Harness
Yes
Injector Drivers
Four
Internal Datalogging
4GB
Knock Control Channels
0
Nitrous Control
Yes (Additional Hardware Required)
Number of Cylinders
4, 6, or 8 (Even Fire Only)
User Configurable I/O
Yes
User-Selectable MAP Storage
Transmission Control Version Only
Water-Methanol Control
Yes (Additional Hardware Required)
Displays And Controllers
Auto Brightness
No
CAN Bus Capable
Yes (Specific to Holley ECUs Only)
Case/Bezel Finish
Black
Configurable
Monitor dozens of pre-configured metrics provided by the ECU, including sensors, air/fuel ratio, switched outputs, drive-by-wire data, and more.
Data Logging
Yes
Display Type
LCD
Functions
Setup, Monitor, Tuning
Gauge/Display Size
3.5 Inch Rectangular
Internal Storage
Yes (SD Card)
Touchscreen
Yes
Throttle Bodies
Airflow Rate (CFM)
950 CFM
Barrels (BBL)
4
Gaskets Included
Yes
IAC Motor Included
Yes
Injectors Included
Yes
Style
Throttle Body Injection
Throttle Bore Diameter (ea)
44.45mm
TPS Sensor Included
Yes
Fuel Injectors
Flow Rate (Lbs / Hr)
80 PPH
Harnesses
Harness Type
Power Harness, Main Harness, TBI Injector Sub-Harness, I/O Harness, Ignition Adapter. Transmission Harness included on transmission control version
Terminated
Yes
Crank Timing
Sensor Harness Included
No (Ignition Adapter Only)
Sensors
Type
1 BAR MAP, Throttle Position (Integrated in TB); Coolant Temperature, Wideband O2 and Air Temperature Sensor; Fuel Pressure Sensor optional, not included
General
Also Included
40-Amp Relay.
Application
Universal (Requires intake manifold for square bore carburetor or adapter there-to)
Color
Available in Polished (550-440 & 550-442), Hard Core Gray (550-441, & 550-443), or Classic Gold (550-444 & 550-445) Throttle Body
Emission Code
3
Unit of Sale
Kit
Terminator Stealth Universal 4BBL TBI Systems