Same Sniper...Now with STEALTH!

It's been a few years now since the Sniper EFI System has rolled out and it is still regarded as a leader in throttle-body based fuel injection at any price point. When installed correctly, nothing beats it for capability or reliability on the street, track, or off-road. And with a full-sized air cleaner it sort of looks like a carburetor.
But what if you want better than "sort of looks like a carburetor?
In that case the new Sniper Stealth EFI Systems are built with you in mind. These are essentially identical to the standard Sniper 4150 EFI System but look a near match to the Holley Ultra XP carburetor. Like the standard 4150 Sniper, the Stealth features a built-in ECU so wiring is kept to a bare minimum and no laptop or programming ability is required. Perfect when both the ride and its owner are happy with an old-school attitude but are glad to accept EFI convenience. And with transmission kick down provisions for GM TH350/400, 200R4/700R4 and Ford C4/C6 transmissions, it's a breeze to install.

In fact, the biggest difference other than the Stealth look is that the throttle bores have been reworked to boost the Sniper Stealth 4150 to 870 CFM. This makes it a great choice for engines up to 650 NA HP on gasoline. The Sniper Stealth has a bolt pattern for 4150 intake manifolds only, so use with a spreadbore or other manifold would require an appropriate adapter. Fuel pressure regulation for the Stealth must be provided by an external fuel pressure regulator.

Features:
Direct Fit for 4150-style Intake Manifold (adapters available for other manifolds)
The ECU is in the Throttle Body--No boxes to mount, no complex wiring harness to run!
Connect with as few as 4 wiring connections: Power +/-, Ignition, and RPM Signal
Visually amazing 3.5-inch touchscreen provides both setup and monitoring
Self-tuning--no laptop or software required!
Available in Shiny Metallic (550-870), Ceramic Black (550-871), or Classic Gold (550-872)
Now Available with the EFI System Pro Master Kit
Just after Holley introduced the Sniper EFI System they released their "Master Kit" version. By simply adding a 'K' to the end of the part number the EFI system would include absolutely everything the owner would need to install a complete inline EFI fuel system, including the pump, filters, 20 feet of Earl's Vapor-Guard hose, fittings, adapters, and clamps (see image below.) A great solution for many users.
Originally, Holley's master kit included the famous "Walbro" 255 LPH Fuel Pump manufactured here in the USA by TI Automotive. This pump flows enough fuel to support nearly 600 HP in naturally aspirated applications. It does not support E85 but other pumps are available to do that. At some point the decision was made to include a pump made by Airtex that produces less fuel flow. We realized that as TI Automotive distributors we could build our own master kit with the Walbro inline pump, and could, in fact, offer the customer a custom selection of fuel flow from their choice of three different master kits. Those kits are optionally available above. Note: Fuel pressure regulator available separately.
*Note: While the GSL396 version of our Master Kit can flow enough fuel to support HP numbers in excess of 650 NA / 540 Boosted, these are the far limits of the four-injector version of the Sniper. Align fuel requirements and system capabilities very carefully to avoid engine damage.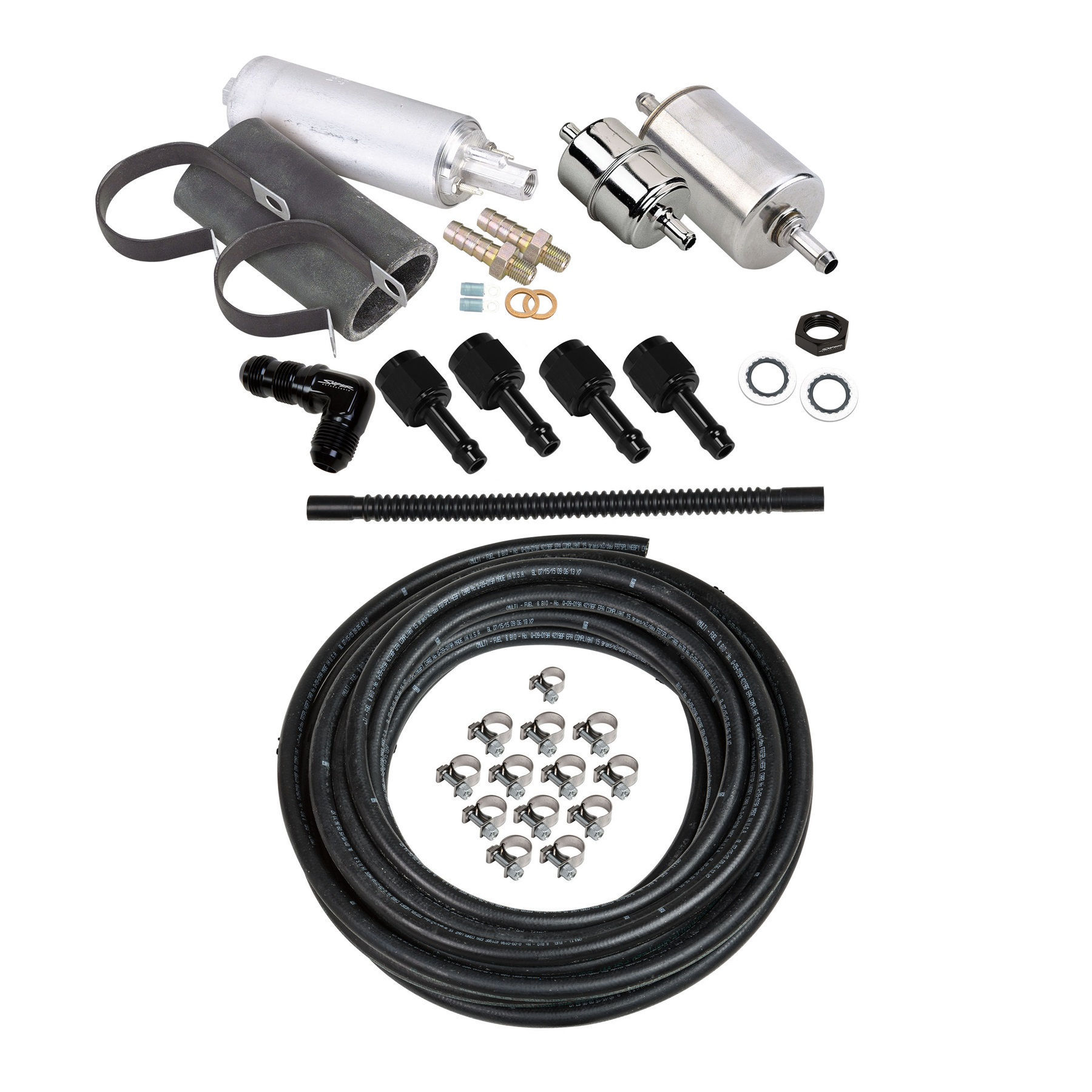 Recommended With your Sniper EFI System
You will need an EFI Fuel System. We have several solutions!

We always recommend one of Holley's OE Style Fuel Modules if one is available for your vehicle. With its in-tank regulator it relieves you of having to buy and install a separate regulator.

A complete EFI Fuel Tank System is also a great choice. Be sure to pick up a fixed or adjustable external fuel pressure regulator.

If no OE module or complete Tank solution is available for your vehicle but you still want the benefits of an in-tank pump then one of these Retro-Fit Fuel Tank Modules is the right answer. You can either opt for the version with the in-tank regulator or install an external fuel pressure regulator.

If you have a racing fuel cell with a 6- or 12-bolt flange around the filler neck then one of these Fuel Cell Tank Modules is ideal. Be sure to install it with a fuel pressure regulator.

The Master Kit with inline fuel pump and external regulator continues to be the most cost-effective and universal solution. You can choose that when you add the EFI System to your cart, above.

You absolutely will want a Fuel Pressure Gauge. Those who don't install one with their EFI system are invariably the ones who end up needing it. Don't be that guy!
The Sniper EFI System has the capability to control ignition timing in addition to providing fuel injection. If you choose this then we recommend you upgrade to the HyperSpark Distributor System.
Bowl Connector Hose: Note that this basic Sniper Stealth EFI Kit does not have a bowl connector hose included (also called a dual-feed fuel line) but on is optionally available, above
For more Sniper EFI System upgrade and replacement parts browse our entire selection of Sniper EFI System Components!
Everyone says, "Buy From EFISystemPro.Com". Why?
All EFI systems purchased here at EFISystemPro.Com come with two years of our exclusive Level 3 Platinum EFI System Support at no additional charge! Our normal cost on this level of support when bought separately from and EFI system purchase is $495 per year.
What do you get with Platinum EFI System Support? To start, that means we're on standby to answer your questions. Our tier-3 tech support will gladly talk you through any challenge--just try to get that sort of personal service from a big-box auto performance store! We'll gladly review your data logs and customize your configurations based on your unique requirements. Because here at EFISystemPro.Com, our look is high-end professional, but our service after the sale is home-town helpful!
Don't Miss This!

FREE Sniper EFI T-shirt with every Sniper EFI system purchased from EFI System Pro!

This T-shirt is yours for $0.00 with your Holley Sniper EFI System purchased from EFI System Pro. Simply choose between Black and Dark Gray and designate your T-shirt size in the dropdown when adding the Sniper system to your shopping cart.

CLICK HERE for T-shirt product page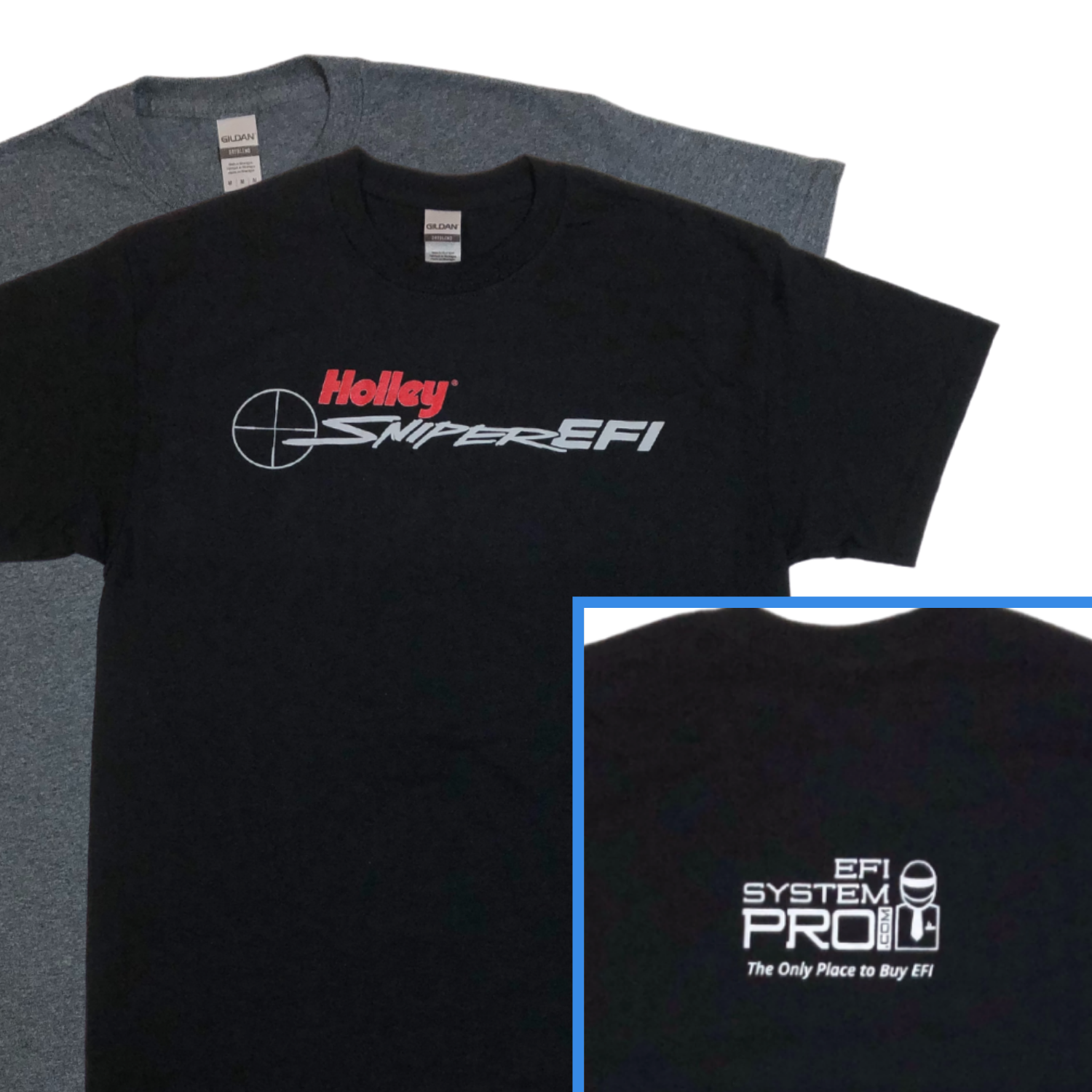 Watch This Great Video On The Sniper Stealth EFI System 4150
Not Sure? Review this product documentation before you buy!


Owners & Installation Manual
Holley Sniper Stealth EFI System


Quickstart Manual
Holley Sniper Stealth EFI System
ECU
Boost Control
Yes
DIS Outputs
None
Family
Sniper
Fueling Strategy
Speed Density,
Includes Power Harness
Yes
Injector Drivers
Four
Internal Datalogging
All datalogging done via external CAN bus device such as 3.5-inch handheld (included), laptop software, or digital display.
Knock Control Channels
0
Nitrous Control
Yes (Single Stage Progressive, Wet or Dry)
Number of Cylinders
4, 6, or 8 Cylinder (Even Fire Only)
User Configurable I/O
Yes
User-Selectable MAP Storage
No
Water-Methanol Control
No
Displays And Controllers
Auto Brightness
No
CAN Bus Capable
Yes (Specific to Holley ECUs Only)
Case/Bezel Finish
Black
Configurable
Monitor dozens of pre-configured metrics provided by the ECU, including sensors, air/fuel ratio, switched outputs, drive-by-wire data, and more.
Data Logging
Yes
Display Type
LCD
Functions
Setup, Monitor, Tuning
Gauge/Display Size
3.5 Inch Rectangular
Internal Storage
Yes (SD Card)
Touchscreen
Yes
Throttle Bodies
Airflow Rate (CFM)
870 CFM (at 1.5 Inches Hg)
Barrels (BBL)
4
Gaskets Included
Yes
IAC Motor Included
Yes
Injectors Included
Yes
Style
Throttle Body Injection
Throttle Bore Diameter (ea)
42.86mm
TPS Sensor Included
Yes
Fuel Injectors
Flow Rate (Lbs / Hr)
100 PPH
Fuel Pressure Regulators
Pressure Range
Master Kit Only: Adjustable 15-65 PSI
Rebuildable
Master Kit Only: Yes
Style
Master Kit Only: External
Fuel Pumps
Flow Rate (GPH)
Master Kit Only: 67.4 GPH (w/526-5 and 526-7 version). Flow rate of 526-8 is significantly less.
Flow Rate (LPH)
Master Kit Only: 255 LPH (w/526-5 and 526-7 version). Flow rate of 526-8 is significantly less.
Fuel Type
Master Kit Only: Gasoline or E85
Fuel Filters
Filter Type
Master Kit Only: Inline
Micron Filtration
Master Kit Only: Prefilter: 20 Micron / Postfilter: 10 Micron
Mounting Bracket Included
Master Kit Only: No
Outside Diameter
Master Kit Only: Prefilter: 1.94 Inches / Postfilter: 2.17 Inches
Harnesses
Harness Type
7-pin Power/Ignition/Fuel Pump, 10-Pin I/O, Wideband O2, Coolant Temp, CAN Bus (All fixed to Throttle Body)
Terminated
Yes
Sensors
Type
Air Temperature, 2.5 BAR MAP and Throttle Position (Integrated in TB); Coolant Temperature, Wideband O2
General
Also Included
3.5-inch Touchscreen Display
Application
Universal (Requires intake manifold for square bore carburetor or adapter there-to)
Color
Shiny Metallic (550-870), Ceramic Black (550-871), or Classic Gold (550-872)
Emission Code
3
Unit of Sale
Kit
Sniper Stealth EFI System 4150