The Daddy of All Sniper EFI Systems
That's right--nothing else is even close. Holley makes it clear: Don't even consider this if your engine isn't producing 800 horsepower.
There is much that is obvious from the name. First, this throttle body is made for a Holley 4500 Dominator intake manifold--one of the biggest intake manifold footprints available today. And rather than look like something out of Buck Rogers, this features Holley's "Stealth" design technology, giving it the look of a classic double-pumper carburetor.
But there is only so much information that you can pack into the name and there is so much more to know. Like flow: This throttle body flows a massive 1440 CFM--fully EIGHTY PERCENT MORE than even the huge 800 CFM that the 4150 Super Sniper EFI System. Coupled with the systems eight 100-pound per hour injectors, this air/fuel combination is enough to support up to 1500 horsepower (naturally aspirated) or 1250 horsepower (boosted applications.) Flowing fuel to this much horsepower is going to require larger fuel lines than the standard Sniper and the Holley provides them: Twin -8 AN fuel inlets. Unlike the entry-level Sniper throttle bodies, an external fuel pressure regulator is required.
Holley left in place many of the features that made the standard Sniper EFI system great, including the 3.5-inch Handheld Display used for setup, monitoring and data-loggins, built-in timing control capability, two-step launch control, single-stage progressive nitrous control, and timing retard. And like the Super Sniper 4150, it includes the additional I/O capability of up to three programmable 5v sensor inputs, six ground outputs and up to five ground inputs to provide a bevy of options for your use.
The Best Things in Life Are Still Free (Sniper Software)

We are always quick to point out that the Sniper family of EFI Systems is self-tuning and requires to software or laptop for setup. But for those individuals who really want to squeeze the last horsepower out of their big-displacement engines the Sniper EFI Software, a FREE download from Holley, is a world-class, easy-to-use tuning software that would normally be expected only with EFI systems of several times the cost. Use by moving the configuration back and forth on the included SD card in the handheld or connect any Windows-based PC directly to your Sniper Stealth 4500 using a convenient USB adapter cable (Included with your Sniper 4500.)
Plug-And-Play Compatible With the HyperSpark Distributor
The HyperSpark is the PERFECT distributor for throttle body injection applications. Because these applications do not require cam sync, that feature is left out to give the owner all of the benefits he or she would get from using a Holley Dual-Sync Distributor on their TBI system, but at a much more reasonable cost.
Features:
Direct Fit for 4150-style Intake Manifold (adapters available for other manifolds)
The ECU is in the Throttle Body--No boxes to mount, no complex wiring harness to run!
Connect with as few as 4 wiring connections: Power +/-, Ignition, and RPM Signal
Most sensors are built-in
Visually amazing 3.5-inch touchscreen provides both setup and monitoring
Self-tuning--no laptop or software required!
Available in Shiny Metallic (550-841), Ceramic Black (550-842), or Classic Gold (550-843)
Recommended With Your Sniper EFI System
For more Sniper EFI System upgrade and replacement parts browse our entire selection of Sniper EFI System Components!
Everyone Says, "Buy From EFISystemPro.Com". Why?
When you buy it here at EFISystemPro.Com, that means we're on standby to answer your questions. Our level-3 tech support will gladly talk you through any challenge--just try to get that sort of personal service from a big-box auto performance store! Because here at EFISystemPro.Com, our look is high-end professional, but our service after the sale is home-town helpful!
Don't Miss This!

FREE Sniper EFI T-shirt with every Sniper EFI system purchased from EFI System Pro!

This T-shirt is yours for $0.00 with your Holley Sniper EFI System purchased from EFI System Pro. Simply choose between Black and Dark Gray and designate your T-shirt size in the dropdown when adding the Sniper system to your shopping cart.

CLICK HERE for T-shirt product page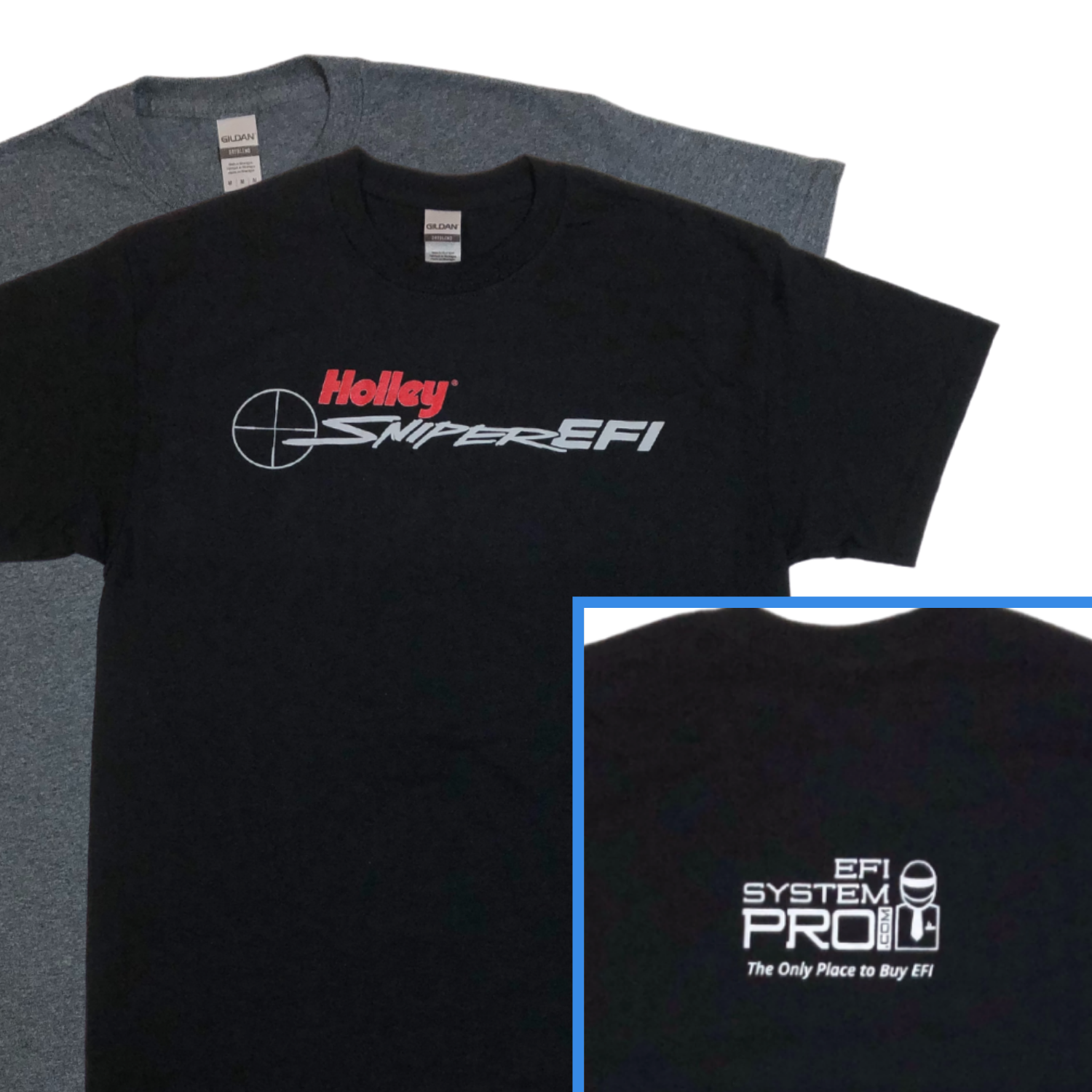 Don't Miss This Video:
Not Sure? Review This Product Documentation Before You Buy!


Owners & Installation Manual
Holley Sniper Stealth 4500 EFI System


Quickstart Manual
Holley Sniper Stealth 4500 EFI System
ECU
Boost Control
YES (An added feature over Sniper 4150)
DIS Outputs
None
Family
Sniper
Fueling Strategy
Speed Density, Alpha-N, or Combination
Includes Power Harness
Yes
Injector Drivers
Eight
Internal Datalogging
All datalogging done via external CAN bus device such as 3.5-inch handheld (included), laptop software, or digital display.
Knock Control Channels
0
Nitrous Control
Yes (Single Stage Progressive, Wet or Dry)
Number of Cylinders
8 Cylinder (Even Fire Only)
User Configurable I/O
Yes
User-Selectable MAP Storage
No
Water-Methanol Control
No
Displays And Controllers
Auto Brightness
No
CAN Bus Capable
Yes (Specific to Holley ECUs Only)
Case/Bezel Finish
Black
Configurable
Monitor dozens of pre-configured metrics provided by the ECU, including sensors, air/fuel ratio, switched outputs, drive-by-wire data, and more.
Data Logging
Yes
Display Type
LCD
Functions
Setup, Monitor, Tuning
Gauge/Display Size
3.5 Inch Rectangular
Internal Storage
Yes (SD Card)
Touchscreen
Yes
Throttle Bodies
Airflow Rate (CFM)
1440 CFM (at 1.5 Inches Hg)
Barrels (BBL)
4
Gaskets Included
Yes
IAC Motor Included
Yes
Injectors Included
Yes
Style
Throttle Body Injection
Throttle Bore Diameter (ea)
54 mm / 2.125 Inches
TPS Sensor Included
Yes
Fuel Injectors
Flow Rate (Lbs / Hr)
100 PPH
Harnesses
Harness Type
7-pin Power/Ignition/Fuel Pump, 10-Pin I/O, Wideband O2, 8-Pin Additional I/O, Coolant Temp, CAN Bus (All fixed to Throttle Body)
Terminated
Yes
Crank Timing
Sensor Harness Included
No (Ignition Adapter Only)
Sensors
Type
Air Temperature, 2.5 BAR MAP and Throttle Position (Integrated in TB); Coolant Temperature, Wideband O2
General
Also Included
3.5-inch Touchscreen Display
Application
Universal (Requires intake manifold for 4500 / Dominator bore carburetor)
Color
Shiny Metallic (550-841), Ceramic Black (550-842), or Classic Gold (550-843)
Emission Code
3
Unit of Sale
Kit
Sniper Stealth 4500 EFI System