The Dual Quad EFI System You've Been Waiting For!
The Sniper 4150 2x4 EFI System was hinted at for years before it was finally introduced. And why not--after all, the standard and Super Sniper 4150 EFI Systems have taken the automotive performance world by storm. It's an easy bet that folks with twin-carb tunnel-rams, cross-rams, and draw-through supercharger setups are going to want to ditch their problematic carburetors for one of these easy-to-use, self-tuning EFI Systems from Holley.
Like the single Sniper 4150, these are available in either a standard or a Super version. The Super version adds the same 8-pin I/O connector that allows you to add up to three 5-volt sensors including an external MAP sensor--critical to those who want to run this on a draw-through Supercharger setup. Unlike the individual Super Sniper, the Super Sniper 2x4 only has four injectors per throttle body (for a total of eight injectors) and is not available with 8 injectors per throttle body at this time.
So, how does this work? Simple: One of the throttle bodies is identical either to the standard 4150 Sniper or the 4150 Super Sniper with one exception: It has small injector sub-harnesses available. The second throttle body is devoid of sensors or ECU. It only has four injectors and two matching injector harnesses. Mate these together and the master Sniper throttle body (the one with the ECU and sensors) drives the injectors in the slave throttle body.
The slave throttle body has its fuel inlet relocated to the front, allowing the two to be placed more closely together--critical in some tight manifold situations. Because everything on the Master throttle body is identical, that means that everything that users have come to love about the single Sniper EFI System (such as the handheld display with Setup Wizard, Sniper software, built-in 2.5 bar MAP sensor and HyperSpark ignition system) all continues to work perfectly. That's right--even at this level of play no external ECU's, laptops or tricky wiring is required.
Choose From standard 2x4 or Super Sniper 2x4 Versions
Sniper 4150 2x4 PN: 550-527 (Shiny Silver), 550-528 (Ceramic Black), 550-529 (Classic Gold)
Super Sniper 2x4 PN: 550-531 (Shiny Silver), 550-532 (Ceramic Black), 550-533 (Classic Gold)
What Comes With the 2x4 Sniper?
Whether you opt for the Sniper 4150 2x4 or Super Sniper 2x4 EFI System, you get a nice set of included components and features.
3.5-inch LCD Touchscreen INCLUDED: Ok, if you've been following the Sniper EFI Systems from their inception you take this for granted. But do you realize that this is in our estimation the nicest, most capable, easiest to use setup/tuning/monitoring device of any EFI System in its class? For the majority of the users out there this handheld represents all the technology they will ever be required to use to implement their new EFI system. And that's a big deal.
CAN Bus to USB Adapter INCLUDED: Holley understands that the target audience for the 2x4 is a bit different than that of the single 4150 Sniper. Therefore they include the CAN-to-USB adapter cable at no additional cost. Like all Sniper EFI Systems, the adapter cable is not required since it is possible to move the configuration back and forth between the handheld and a PC. The cable just makes it much more convenient (and makes you look like a real guru in the pits when you connect your laptop to your engine!)
Features:
Direct Fit for Dual-Quad 4150-style Intake Manifold
The ECU is in the Throttle Body--No boxes to mount, no complex wiring harness to run!
Connect with as few as 4 wiring connections: Power +/-, Ignition, and RPM Signal
Bosch Wideband O2 Sensor for self-tuning capability
Visually amazing 3.5-inch touchscreen provides both setup and monitoring
Self-tuning--no laptop or software required!
Recommended With your Super Sniper EFI System
Throttle Body Spacing Requirements
This usually isn't the first question folks ask but it's almost always at the top of the list. Holley has gone to great lengths to configure the throttle bodies so that they can be mounted as close as possible. In most cases that works out to 6.43 inches center-to-center. (Measure the distance between the air cleaner mounting studs if you currently have a set of carburetors in place on your 2x4 manifold.) Not that too many folks have this problem but you can mount the Sniper 2x4 throttle bodies as far as 13.5 inches apart (again, measuring center-to-center of the air cleaner stud, not the physical space between the throttle bodies.)
This Is Great But It's Not Exactly What I Need
We hear you. Maybe you have a need to control a GM or Ford electronic transmission. Or you want to run a coil-on-plug ignition system. Or you simply want throttle bodies that look more like carburetors.
Long before the Sniper 4150 2x4 EFI System was introduced we were custom-building Twin Quad Terminator EFI Systems. And those are going to continue to be a better answer in some circumstances. View the Twin Terminator Systems and let us know if you think that is closer to meeting your specific requirement.
Everyone says, "Buy From EFISystemPro.Com". Why?
When you buy it here at EFISystemPro.Com, that means we're on standby to answer your questions. Our level-3 tech support will gladly talk you through any challenge--just try to get that sort of personal service from a big-box auto performance store! Because here at EFISystemPro.Com, our look is high-end professional, but our service after the sale is home-town helpful!
Don't Miss This!

FREE Sniper EFI T-shirt with every Sniper EFI system purchased from EFI System Pro!

This T-shirt is yours for $0.00 with your Holley Sniper EFI System purchased from EFI System Pro. Simply choose between Black and Dark Gray and designate your T-shirt size in the dropdown when adding the Sniper system to your shopping cart.

CLICK HERE for T-shirt product page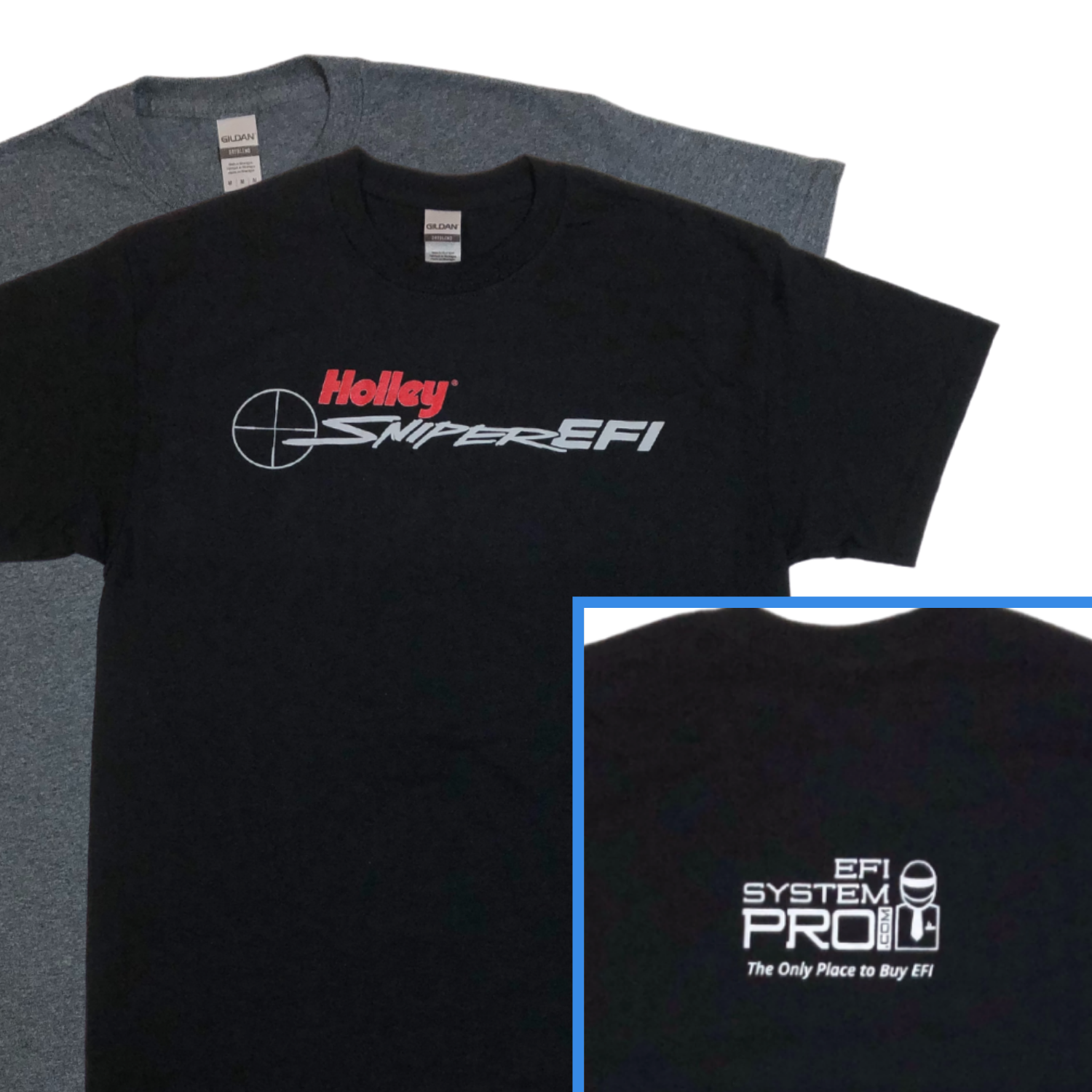 Watch This Great Video On The Sniper 4150 2x4 EFI System
Not Sure? Review this product documentation before you buy!


Owners & Installation Manual
Holley Sniper 4150 2x4 EFI System


Quickstart Manual
Holley Sniper 4150 2x4 EFI System
ECU
Boost Control
Yes
DIS Outputs
None
Family
Sniper
Fueling Strategy
Speed Density
Includes Power Harness
Yes
Injector Drivers
Eight
Internal Datalogging
No. All datalogging done via external CAN bus device such as 3.5-inch handheld (included), laptop software, or digital display.
Knock Control Channels
0
Nitrous Control
Yes
Number of Cylinders
8 Cylinder (Even Fire Only)
User Configurable I/O
Yes
User-Selectable MAP Storage
No
Water-Methanol Control
No
Displays And Controllers
Auto Brightness
No
CAN Bus Capable
Yes (Specific to Holley ECUs Only)
Case/Bezel Finish
Black
Configurable
Monitor dozens of pre-configured metrics provided by the ECU, including sensors, air/fuel ratio, switched outputs, drive-by-wire data, and more.
Data Logging
Yes
Display Type
LCD
Functions
Setup, Monitor, Tuning
Gauge/Display Size
3.5 Inch Rectangular
Internal Storage
Yes (SD Card)
Touchscreen
Yes
Throttle Bodies
Airflow Rate (CFM)
800 CFM per Throttle Body (at 1.5 Inches Hg)
Barrels (BBL)
4
Gaskets Included
Yes
IAC Motor Included
Yes
Injectors Included
Yes
Style
Throttle Body Injection
Throttle Bore Diameter (ea)
42.86mm
TPS Sensor Included
Yes
Fuel Injectors
Flow Rate (Lbs / Hr)
100 PPH
Fuel Pressure Regulators
Style
Integrated in Throttle Body
Fuel Filters
Mounting Bracket Included
Master Kit Only: No
Harnesses
Harness Type
7-pin Power/Ignition/Fuel Pump, 10-Pin I/O, Wideband O2, Coolant Temp, CAN Bus (All fixed to Throttle Body). Super adds second 8-Pin I/O Harness.
Terminated
Yes
Crank Timing
Sensor Harness Included
No (Ignition Adapter Only)
Sensors
Type
Air Temperature, 2.5 BAR MAP and Throttle Position (Integrated in TB); Coolant Temperature, Wideband O2
General
Also Included
3.5-inch Touchscreen Display
Application
Universal (Requires intake manifold for square bore carburetor or adapter there-to)
Color
Standard: Shiny Silver (550-527), Ceramic Black (550-528), or Classic Gold (550-529) Super: Shiny Silver (550-531), Ceramic Black (550-532), or Classic Gold (550-533)
Emission Code
3
Unit of Sale
Kit
Sniper 4150 2x4 EFI System (Standard or Super)