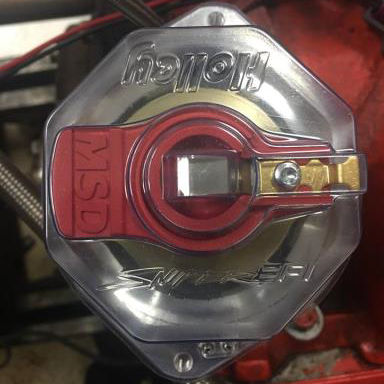 With the release of the Holley HyperSpark EFI Distributor for Chevrolet Small & Big Block there really isn't any excuse for not enabling ECU-controlled ignition timing on your Sniper, Terminator, or similar throttle body fuel injection system. It's just that inexpensive and easy.
The price point of the Holley HyperSpark EFI Distributor puts it less than either a MSD Pro-Billet or Ready-To-Run distributor. And when coupled with the HyperSpark Ignition Box and HyperSpark Coil, this creates a unbeatable trifecta of ignition perfection that is 100% plug-and-play and can be installed in no time. In fact, there are only three unterminated wires that need to addresses. Everything else is click-connect Metri Pack connectors along with two ring terminals for power and ground.

Holley has even found a way to simplify the process of phasing the distributor. First, install the included clear distributor cap that physically locks the rotor into the phased position. Next, rotate the engine to top dead center (0 degrees on the harmonic balancer) on the compression stroke. Finally, Drop the distributor into place, lock it down, and install the regular distributor cap and you're done. That terminal becomes the #1 spark plug tower. It just can't get any easier than this!
You can expect that the Holley HyperSpark EFI Distributor will be a great distributor for any EFI system that requires only a crank sync signal. For those who need a cam sync signal as well in order to implement full synchronous fuel injection or coil-per-plug ignitions, we recommend the Holley Dual-Sync Distributor.
The HyperSpark Distributors come with a cast distributor gear. Ensuring that you use a distributor gear that is compatible with your camshaft is of CRITICAL IMPORTANCE. If you are unsure if a cast distributor gear is right for your camshaft, contact the camshaft manufacturer or a trusted engine builder familiar with your engine and ask what you should use.
Big Block Chevy? Choose Standard or Tall Deck Version
If you have a big block Chevrolet engine you must confirm if your block is a standard deck or one of the tall-deck versions. Then you can select from the 565-300 for the standard deck or the 565-309 for the tall deck big-block Chevrolet. (Small block Chevrolet owners, you'll always go with the 565-300.)
Now Available in Polished Silver or Black Anodized Body!
Watch How Easy It Is To Install This Distributor!
Not Sure? Review this product documentation before you buy!
General
Also Included
Clear rotor phasing cap for easy installation
Application
Chevrolet Small & Big Block (Standard Deck)
Color
Polished Aluminum Body; Black Distributor Cap
Material
CNC-Machined Billet Aluminum Body; High Impact Plastic Cap & Rotor
OEM Replacement
No
Unit of Sale
Each
HyperSpark EFI Distributor, Chevrolet Small & Big Block