Huge!

Ok, I'm not normally given to making stupendous claims about a product just because it is new, even when it is a pretty good product. But this new Sniper Transmission Control (STC) kit represents truly impressive engineering and a huge new opportunity for owners of both the original Sniper and Sniper 2 EFI Systems. And a standalone version is even available for old-school carburetor die-hards who want to take advantage of the benefits of electronic transmission control.

So, what makes this such a big deal?
To be sure, there are other very decent electronic transmission controllers out there. Before the advent of Terminator X, I ran the original Sniper with US Shift's controller and had great success once I got around the challenge of getting the Sniper TPS signal into the US Shift controller without interference. #noteasy. But as functional as it was having two distintly different controllers in the cab, it always felt a little cobbled-together.

This new Sniper Transmission Control Kit is a positively elegant solution. While I was initially a bit suspicious about how integrated two separate controllers would be, that concern is long gone. The transmission controller box simply adds the hardware that the Sniper lacks to control the transmission. For Sniper EFI System owners, the user interface (setup and monitoring) is purely in the same handheld that came with your Sniper EFI System. That includes a setup wizard and full data logging and monitoring of your electronic transmission--right from your existing handheld. A firmware update is required for users with Sniper V1 ECU and Handheld firmware. Our staff will gladly walk you through that relatively easy process--as you expect from EFI System Pro!

Is the monitor included with the kit or not?
For Sniper EFI System owners, no monitor is included. To include one would be completely without benefit. Besides keeping the cost down operating by using the monitor you already have connected to your Sniper EFI System provides you with a single touch-point for fuel, igntion (if so equipped) and transmission control. Again, this gives you a truly seamless upgrade to electronic transmission control right on the display you already know and love.

If you have a carburetor and are buying the stand-alone transmission control kit, yes, a monitor is included. If this is your first time to the world of electronic controllers, welcome. We're here to make that easy. If the idea of having a handheld controller in your vintage hotrod is deplorable then keep in mind that once you set everything up you don't need to look at the handheld again. You can put it in the console or even disconnect it. But do consider looking into the amazing ability to monitor the operation of your transmission in real-time in a bright, colorful display. Warning: You may like it.

What else do I need?
This one part number is able to control (at this writing) four different transmissions. But since each transmission requires a different harness, nobody could afford the kit if it came with all four harnesses. So those are available separately. Choose from:

GM 4L60/70/80E, Pre-2009 (PN:558-405)*

GM 4L60E, 2009+ (PN:558-455)*

Ford 4R70W/4R75W 1998+ (PN:558-470)

Ford AODE/4R70W 1992-1997 (PN:558-471)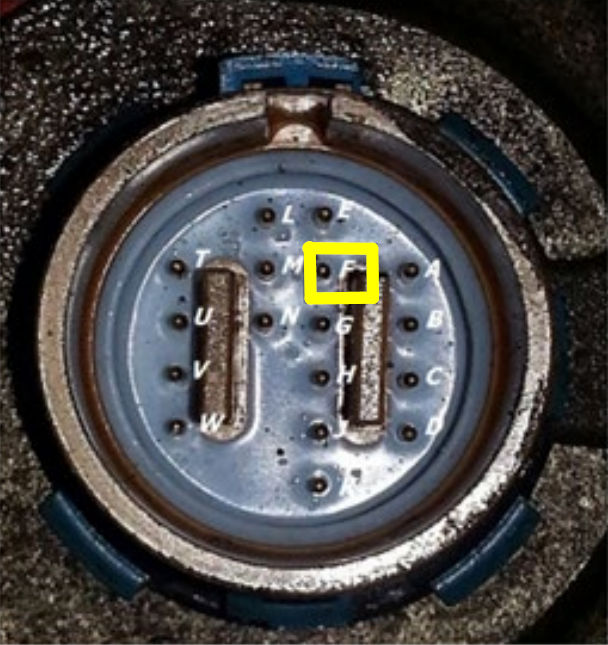 *A Note About Choosing The Right Harness For The GM 4L60E: In general, factory 4L60/70/80E transmissions built before 2009 are going to use the 558-405 transmission harness. But in addition to factory 4L60E transmissions built 2009 and later, if your transmission has been remanufactured since 2009 or if it is a GM Performance Parts transmission, it will likely need the 558-455 transmission harness. Compare the picture at right to your transmission connector. If you see a pin in the location highlighted with the yellow box (connector 'F') then opt for the 558-455 harness. Otherwise, go with the 558-405 harness for the earlier transmission.

More details, please!
Using the setup wizard to answer four easy questions, a basic transmission tune is installed that will be be fully adequate for the operation of most street vehciles with no further tuning. Beyond that, here is what you can tune should you desire:

Installed Gear Ratio Selection

Speed Calculation

Pulse-Per Mile Output

Upshift Points

Downshift Points

WOT Shift Points

Torque Converter Lockup Activation/Deactivation

Having configured the above, you can monitor and datalog the following parameters either with the 3.5-inch monitor or the Sniper EFI System laptop software (Sniper EFI System users only.)

Vehicle Speed

Gear Selection and Active Gear

Torque Converter Lockup Status and Duty Cycle

Line Temperature*

Line Pressure PSI*

Line Pressure Percent Commanded

Transmission Fan Status**

Input Shaft Speed

*Transmissions that include the ability to monitor line temperature and pressure only.
**For installations that choose to include a transmission cooler fan, optional.

How difficult is the wiring?
There are two harnesses associated with the STC: The main harness that is included in the kit and then the transmission harness that is purchased separately. The main harness has three mandatory connections: Continuous 12-volt power, Ground, and Switched 12-volt power. That is all that is required. If you need a pulses-per-mile (PPM) signal for a speedometer or cruise control, that is provided, as are two fan controls, but none of these are required.

Wiring for the transmission harness varies somewhat depending on the transmission. They are plug-and-play between the trasmission and the STC and add, beyond basic power and ground requirements, require a brake switch signal that allows the transmission to detect braking. Overall, a relatively easy wiring task.

Is there anything this thing doesn't do?
No laptop programmability is offered for the Sniper Transmission Controller. All configuration and tuning must and can be done using the 3.5-inch handheld, which is completely adequate to that purpose. The Sniper EFI System laptop software does monitor and datalog all the pertinent transmission functions.

The Sniper Transmission Controller does not at this time offer support for paddle shifters nor is that projected to be added in the future. If you need that then you are left with the other existing standalone transmission controllers that do offer this feature.

Not Sure? Review this product documentation before you buy!


Owners & Installation Manual
551-101 Sniper Transmission Controller for Sniper EFI


Quickstart Manual
551-101 Sniper Transmission Controller for Sniper EFI


Owners & Installation Manual
551-103 Sniper Transmission Controller for Sniper 2 EFI


Quickstart Manual
551-103 Sniper Transmission Controller for Sniper 2 EFI


Owners & Installation Manual
551-102 Sniper Transmission Controller for Standalone (Carbureted) Applications


Quickstart Manual
551-102 Sniper Transmission Controller for Standalone (Carbureted) Applications
General
Color
Black w/ Holley Label
Emission Code
5
Unit of Sale
Each
Sniper Transmission Control Kit