Need a fixed-pressure fuel pressure regulator (60 PSI) for your EFI System? Why not get one that is combined with the filter you also need.
This universal filter-regulator is original equipment on the 2000-2004 Chevrolet Corvette. GM engineers this with a fixed-pressure 60 PSI fuel pressure regulator and a 10 micron fuel filter--perfect for many EFI System applications, including the Sniper EFI System and GM LS engine swaps. We couple this with the quick-disconnect to -6 AN adapters so that you have 3 convenient -6 AN Male ends. Or if you are installing this using Earl's Vapor-Guard or standard 3/8-inch EFI Hose, you can add the optional -6 AN Female to 3/8-inch hosebarb adapters to make this a slam dunk.
This filter-regulator works great with fuel pumps that flow up to 255 LPH. If you are flowing more then 255 LPH consider one of the Holley Filter-Regulators instead.

Select the Adapter Style You Prefer!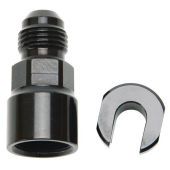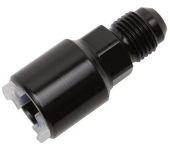 People, being the funny creatures they are, tend to like specific things. And we, being the funny creatures we are, like to oblige those preferences! The -6 AN male adapter that fits to the male fuel quick disconnects on this filter-regulator are available in two different versions: The push-on version with a plastic quick-connect sleeve (like is used on the OE connection) or with a metal horseshoe-shaped fitting that slips over the male quick-disconnect and then tightens securely. We let you pick the one you prefer!
Do you have this kit and just need a replacement filter? We have those too!

Fluid Fittings
Fittings Included
Yes
Inlet Size
-6 AN Male (3/8-inch Hosebarb Optional)
Outlet Size
-6 AN Male (3/8-inch Hosebarb Optional)
Return Size
-6 AN Male (3/8-inch Hosebarb Optional)
Fuel Pressure Regulators
Pressure Range
60 PSI
Rebuildable
No
Style
Return Type
General
Also Included
Mounting Bracket
Application
Universal
Color
Steel body, plated steel bracket, plated and black anodized fittings
Material
Steel filter, anodized aluminum fittings
OEM Replacement
No
Unit of Sale
Kit
Universal Filter-Regulator Kit