The factory fuel pump in GM TBI vehicles was a low-pressure pump, providing only about 20 PSI. This is far too low for most aftermarket EFI systems, including the Sniper EFI System, Terminator EFI, as well as EFI systems made by FAST, and FiTech. Rather than try to use an inline pump or some sort of sump system, these kits allow you to install a true high-pressure EFI pump that will work perfectly with the return-style fuel pressure regulator appropriate for your EFI System.
Available In Three Versions
Walbro / TI Automotive 5CA400HP or 5CA400HP-353
These kits includes a Walbro / TI Automotive High Pressure Capable fuel pump and all the components you need for this to be a direct fit into the fuel tank of most GM cars and trucks with an factory in-tank fuel pump built from 1982-1999. The standard 5CA400HP produces 267 LPH at 40 PSI and 245 LPH at 60 PSI (at 13.5 volts.) The 5CA400HP350 produces 335 LPH at 40 PSI and 301 LPH at 60 PSI (at 13.5 volts.) Both feature linear near-linear flow characteristics to 110 PSI. Gasoline compatibility only.
Aeromotive 11569 GM Fuel Pump
This kit includes one of Aerootive's 340 Stealth pumps producing a stout 350 LPH of fuel at 40 PSI and 300 LPH at 60 PSI (at 13.5 volts.) Moreover, this pump is E85 compatible. Like the Walbro 5CA400HP, it is intended to be a direct-fit into GM products built between 82 and 99 that came with an in-tank fuel pump.
Specifications of Fuel Pump Options:
| | | | |
| --- | --- | --- | --- |
| Kit # | 5CA400HP | 5CA400HP335 | 11569 |
| Pump PN | F20000169 (AKA GSS343) | GSS353 | 11569 |
| 40 PSI Flow | 267 LPH | 335 LPH | 350 LPH |
| 60 PSI Flow | 245 LPH | 301 LPH | 300 LPH |
| Max HP* (NA, Gasoline) | 630-640 HP | 790-800 HP | 790-800 HP |
| Max HP* (1 Bar Boost, Gasoline) | 510-520 HP | 640-650 HP | 640-650 HP |
| E-85 Compatible | No | No | Yes |
*Flow and HP are rated at 13.5 Volts. Choose a fuel pump that flows 15-20% more fuel than required for the peak horsepower your engine produces. That way if you sling your alternator belt when launching and only have 12 volts for your 1/4-mile pass you'll not be putting your engine at risk.
Read Before Choosing!
"Since the price is similar that means I should choose the bigger pump--right?"
Um, not exactly. First, best policy is not to install any bigger of a pump than is required for the safe operation of the engine. If you're not planning to produce more than 600 HP and don't plan to run E-85 then don't pick the Aeromotive pump. Second, long years of experience with the Walbro fuel pumps (produced in the USA by TI Automotive) has proven these to be nearly bullet proof. Third, both kits are not equal. The Walbro kit includes both a replacement insulator and a tank O-Ring (though we do offer these as optional accessories with the Aeromotive pump kit.)
However, if you plan to run E-85 fuel then the Aeromotive kit is your only option. And the bigger flow numbers are not in-and-of themselves a problem, even if you don't need the increased horsepower. Be absolutely certain you use a 3/8-inch or larger return hose with the Aeromotive pump. While a 5/16-inch return hose will allow the Walbro pump to be properly regulated to the appropriate pressure, experience has shown that the bigger flow of the Aeromotive pump required a larger return.
In all cases we recommend replacing all of the existing rubber fuel line when upgrading to this fuel pump. This is especially true for vehicles that came with the low-pressure fuel pump that suited GM TBI applications, but simply due to the age and pressure capability of these pumps it is a wise choice to do so regardless of the original fuel pressure. We offer and recommend Earl's Vapor-Guard EFI Hose and Vibrant EFI Hose Clamps.
Aeromotive 11569 installed with optional Base Insulator and O-Ring in the fuel pump assembly for our '95 Chevy C1500 Project Shop Truck. (Included sock filter not shown.)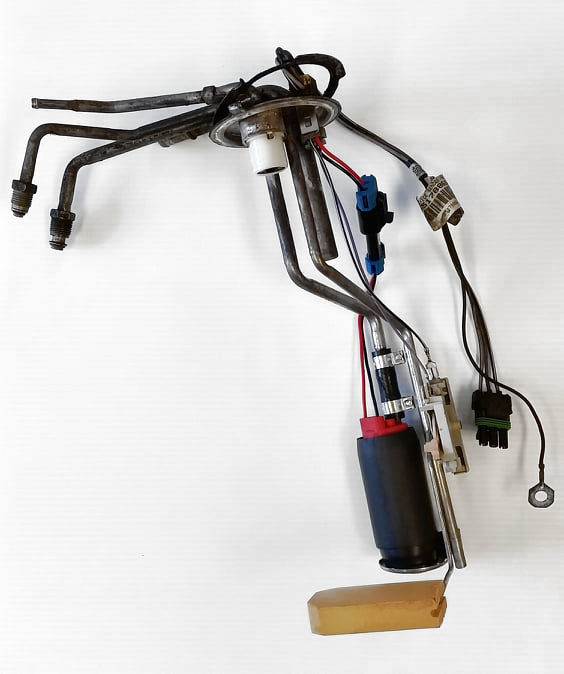 Fuel Pumps
Flow Rate (GPH)
69 GPH at 43.5 PSI and 13.5 Volts
Flow Rate (LPH)
255 LPH at 43.5 PSI and 13.5 Volts
Fuel System
EFI
Fuel Type
Gasoline (up to 10% Ethanol) - No E85
EFI Upgrade Fuel Pump for GM in-Tank Pumps - 255 or 350 LPH